General Information

Name:
Laila Darkmoon
Age:
17
Gender:
Female
Grade:
Junior
Power:
Shape shifter.
Power Information

Power Description:
Laila can shape shift into mostly any animal that she has ecounterd.Although depending on the animal she can gain their ability. Lets say she has shape shifted into a cheetah she can run just as fast. But she has to physically meet the animal to morph into one. She also can choose to completely morph into the animal or just some parts. Like she can just take the cat ears and tail and stay looking humanish. She cant only shapeshift into animals but she can shape her phsycal appearence to the desired look.
Seal:
Is a animal print on the back of her shoulder.
Drawbacks:
Although Laila can shapeshift she needs to know the animal in person. Like if she ecounterd a wolf then she can shape shift into a animal. When she changes her looks they sometimes get mixed with animal colors.But she doesnt changes her looks often only between her cute or more mature side.
Appearance

Hair:
White/blondish
Eyes:
Pinkish red
Height:
5'0
Skin Tone:
pale
Other:
She likes to use cute ribbons
Picture:
Her Neko Form
Her Normal form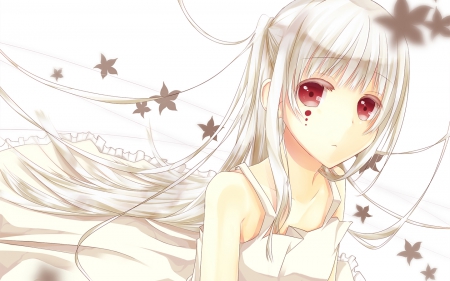 Personality

Description
Laila is nice and out going, she likes to act shy sometimes. Laila helps others when they are in need and she is sorta stubborn. She doesnt like to feel helpless so she tries to stay strong.
Flaws
Stubborn, sometime can come off as mean but its just her being stubborn. She is clumsy and likes to get into peoples personal spaces a lot.
Likes
SWeets, Kittens and sports. And food.
Dislikes
Most small dogs, when she alone, and people being mean
History

Family/ Relatives:
She has a mother (Reina) and an older sister (Marina)
History:
Laila was raised in a small village with other shapeshifters with her father being the mayor. They would change into mountain lions to hunt for food and other things. One day there was a howl by the village gaurd who watched over the perimeter for the hunters looking for the shapeshifters. Everyone shape shifted into sheep while the Laila's father changed into a shepperd. A few men with rifles came down the hill and looked around.
Gunman:"Hello, good sir"
Mayor: " Why hello! what brings you down to my herd?"
Gunman2 looked around suspiciously and whispered into the other gunman
Gunman:" do you live by your self in this village?"
Mayor: " Haha, why yes. These extra houses are for the sheep so I can keep a better hold on them from the wolves." The mayor smiled and suddenly he was shot. All the village morphed into their fastest animal and ran away while Laila turned human and ran to her father and cried over his dead body. The gunmen smirked and went to grab her as her sister and mother came in as mountain lions and killed the gunmen and quickly escaped. Laila and the rest of the village mourned over the great mayors death but then soon moved on and became accustomed to modern times. Now Laila lives in a city going to school at Darks univesity. Her sister already graduated and now her time to gradutate is comming.

_________________
Hello there kitten.
You are my only friend....



Posts

: 37


Join date

: 2013-01-26


Age

: 22


Location

: Dark carnival



You should've just asked me to look over this. I don't always look over the site. Approved.
Admin




Posts

: 1218


Join date

: 2012-04-28




_________________
Hello there kitten.
You are my only friend....



Posts

: 37


Join date

: 2013-01-26


Age

: 22


Location

: Dark carnival





Similar topics
---
Permissions in this forum:
You
cannot
reply to topics in this forum